I believe there is not a moment more magical moment than when a baby is born. It is an honor to be a part of capturing this amazing process and documenting one of the most incredibly special times in your life! My job as a Savannah newborn photographer goes far beyond just snapping a few shots with a camera; I strive to capture a unique moment in time and all the amazing emotions along with it. It's my greatest hope that the photos from your baby photo session will become a family treasure. Here are a few tips in preparing for your Newborn Session
I've put together this guide based on my many years of experience photographing babies and newborns. I'm sharing some of my "tricks of the trade" to get those beautiful, lifestyle images everyone goes absolutely crazy for. I've included information on booking and timing, what to wear, how to prepare a room, how to get your baby ready, and more!
Of course, as we get closer to your due date and session I will reach out with more reminders and tips. You are always welcome to contact me with questions!
HOW TO PREPARE FOR YOUR SESSION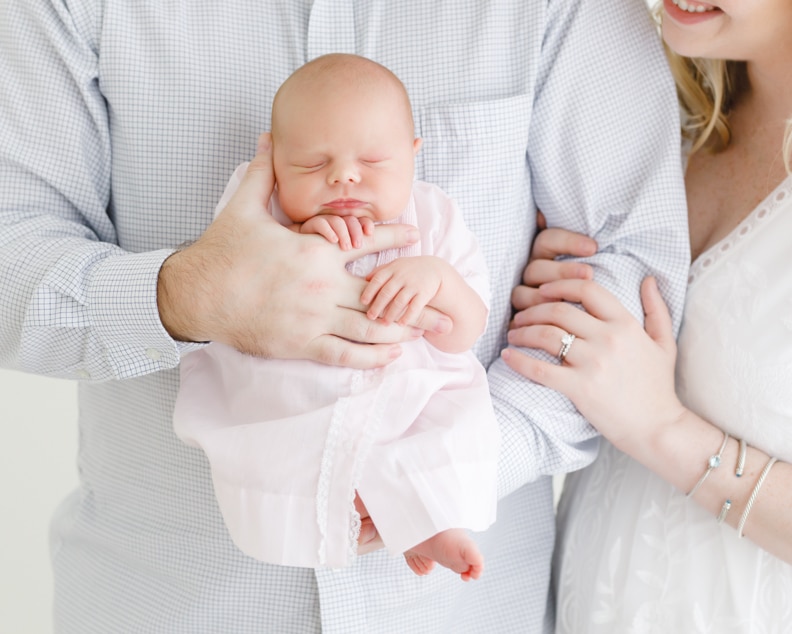 1: Book your session 2-4 months in advance
As soon as your baby comes, it's going to be non-stop late nights and hard work (seriously, I've been there)! Coordinating a photo session might seem like the last thing on your list of priorities. This is why I recommend booking your session at least 2-4 months in advance of your due date to make sure everything is lined up ahead of time and you don't have to worry or scramble for last-minute plans!
2: Best before 30 days old
Once your baby is home safe and sound, please contact me immediately to let me know the wonderful news (it's totally fine to have a helping friend/family member set things up too)! I will work closely with you to find a day and time that works for everyone. It's very important to remember and plan for the fact that newborns are best photographed under 30 days of age; the ideal timing before 14 days.
3: Prepare the day before
Make sure to pack a diaper bag the night before and prepare any extra clothing you are bringing as well. Don't forget, we provide several clothing options for you as well in our studio wardrobe. The day before is also a great time for momma to get a quick mani and or pedicure. The day of your I recommend playing with your baby as much as
possible and keeping them awake more than usual so they'll be tired out for our session together – which is what we need to get the best photos! Great ideas are giving baby a morning bath, tummy time, or reading a book together.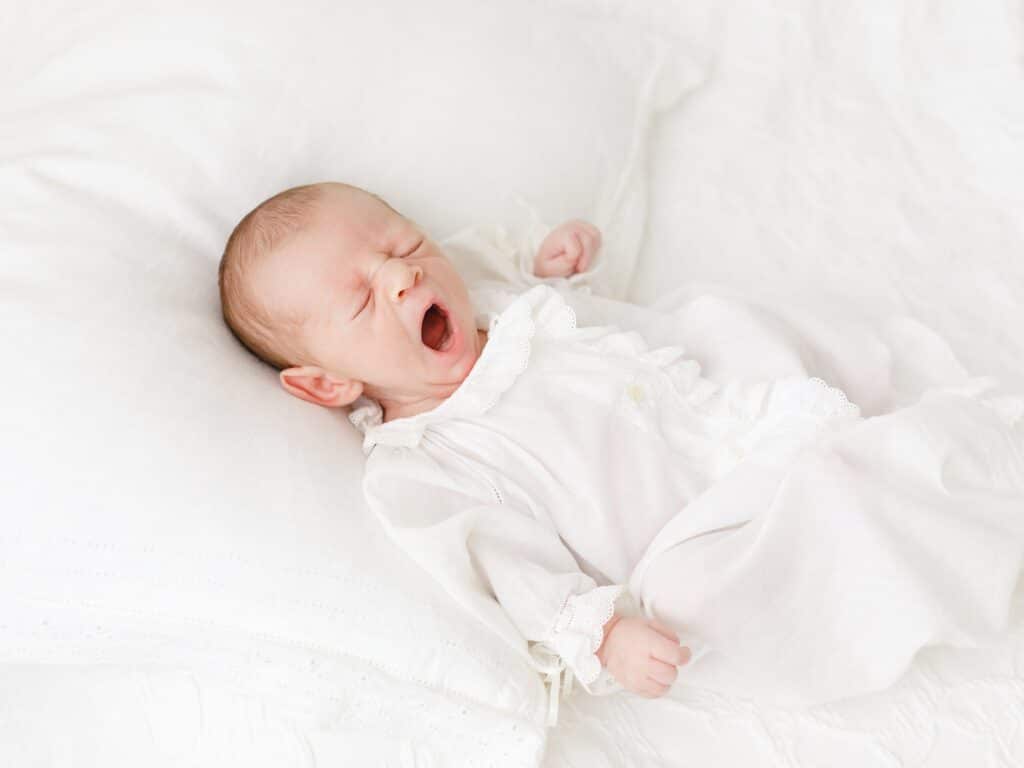 4: Don't forget to bring those Heirloom Items
It is no secret that living in the South, we love our heirloom take-home outfits and generation-old blankets! Make sure to bring them on your session day. It will be super special to photograph your little one in such a special item and will make your pictures feel even more special and timeless. Great ideas would be a bonnet, smocked outfit, knitted or monogrammed baby blanket, silver rattle, the sky is really the limit. Still looking for a beautiful take home outfit? Check out our friends over at Sara Jane's Children Boutique located on the corner of 37th St and Abercorn or Punch and Judy in Habersham Village. Both locations offer great classic brands just as Kissy Kissy, Feltman Brothers, and Magnolia Baby. All photographs are beautifully and timeless.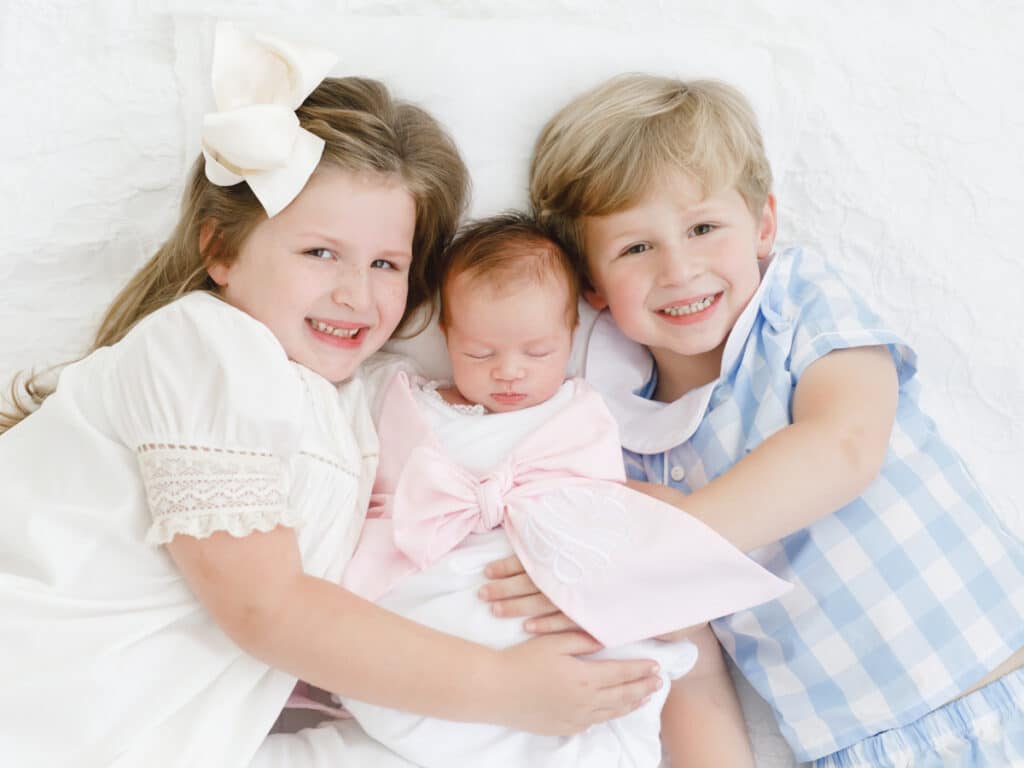 5: Fed and changed beforehand
Have your baby fully fed and changed before the session. This increases the chances of sleep and greatly decreases the chances of fussiness! Everyone wins.
6: The Perfect Setting
If you opted for a studio session, you won't have to worry about a thing. We will have everything setup and ready to go upon arrival. IF you opted for a in-home session for your Savannah GA Newborn Pictures, here are a few ideas to help you prepare. Getting your room just right for our photoshoot is a big part of making the photos a huge success! I recommend trying for the following:
• Turn up the heat! Temperatures should be 88 + degrees – like a sauna!
• Try to create a quiet and relaxing environment free from noise and distractions
• Sometimes a fan or white noise maker can help your baby sleep soundly and feel comfy
• Remove any boxes or clutter that may be in the Master bedroom or nursery. Don't stress though. If you don't have time, our staff will help take care of everything upon arrival.
7: Parents Should Wear Layers
We've turned up the heat for baby, but parents should be comfortable too! I always tell my clients to dress in layers during the shoot in case things get a little too warm. Being comfortable is key to beautiful, natural images! Don't forget to bring water and a few snacks as well. Newborn sessions can last anywhere from 2-3 hours.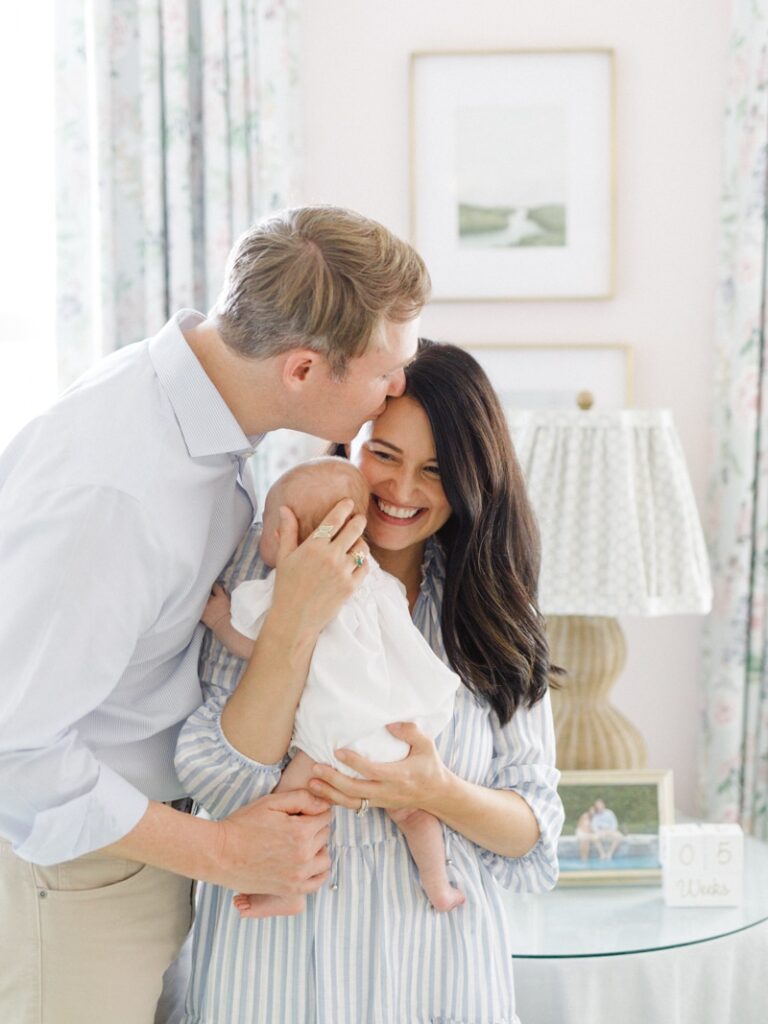 8: Birth Announcements
Sending out birth announcements is such an exciting process! We work with talented Empress Stationery in Alabama to create the most gorgeous and timeless birth announcements for our clients. Don't forget to send over the details of your little one after they are born and we will help get everything together for your announcements taking the stress away so you can enjoy more time with your sweet little one.
9: Check List of What to Bring
Setting out things ahead of time helps things go more smoothly during the shoot. These are my top items to have handy during a shoot:
• Extra milk or formula
• Extra diapers
• Wet wipes
• Pacificer
• Snacks and drinks for mom
• Any special blankets, props, hats, or cute clothing! Think Heirloom and Special
• Neutral undergarments for mom and neutral toned clothing for dad. Stay away from bright colors and bold patterns. We dont want anything to distract from your sweet baby.
10: Have Fun
The most important rule for the day of our session is to relax and have fun! I am here to help you all and make everything so as stress free and as easy as possible. I can't wait for our session together.