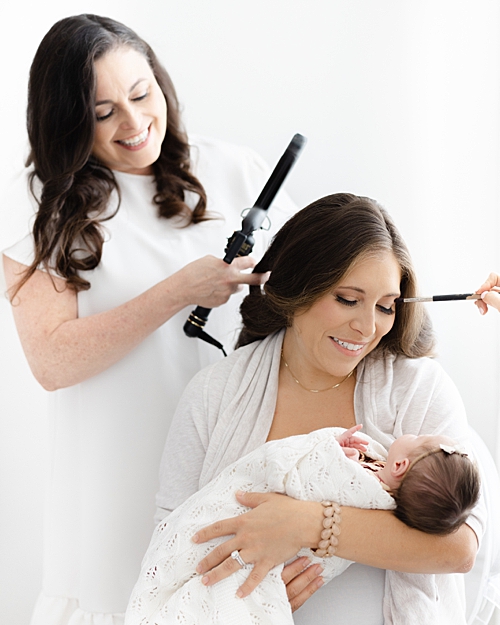 Bringing a beautiful new life into the world is one of the most incredible experiences a woman can go through. Today, we're here to let you in on a little secret: professional hair and makeup can truly transform your experience during this precious time.
Now, before you start thinking that we're just about glam, let's clear something up – your newborn session should be all about healing, bonding, and cherishing those early moments with your baby. After all, that's what truly matters. So, why should you consider professional hair and makeup for your newborn session with Katrina Barrow Photography? Let's chat about that.
1. Feel Beautiful Without the Fuss:
We totally get it – after having a baby, you've got a lot on your plate. Between the late-night feedings and diaper changes, the last thing you need is to stress about your appearance. That's where professional hair and makeup come to the rescue. It's not about masking who you are; it's about enhancing your natural beauty so you can feel like the best version of yourself during your session.
2. Complement Your Baby's Delicate Beauty:
Newborns are incredibly delicate, and you want everything to be just perfect for their first photoshoot. A professional makeup artist knows precisely which products are safe for you and your baby. They'll help you choose colors and styles that complement your little one's fragile features, ensuring a harmonious look that makes your photos even more precious.
3. More Quality Time with Your Baby:
Your baby is your top priority right now, and every second you spend bonding with them is invaluable. By having your hair and makeup done professionally, you can sit back, relax, and use that time to focus on what truly matters – building that unbreakable bond with your newborn.
4. Mom Deserves a Little Pampering Too:
Your post-pregnancy journey is an incredible one, but it can be quite challenging. With professional hair and makeup, you get to experience a bit of pampering that's well-deserved. It's a chance to unwind and indulge in a little self-care before the session, leaving you feeling refreshed and ready to take on anything.
5. Your Session, Your Way:
Your newborn photography session with our studio should be tailored to your unique preferences and priorities. If you'd like professional hair and makeup, we're here to make it happen. But, of course, if you'd rather go for a more natural look and spend all your time cuddling your baby, that's perfectly fine too. We're here to ensure your experience is precisely as you envision it.
I understand that the postpartum period is a time for healing, bonding, and creating beautiful memories. Professional hair and makeup services are complementary to all of our newborn session, but we're always ready to adapt to your wishes.
Hi!! I'm Katrina Mattingly a newborn photographer located in Rincon, GA just a short drive from Downtown Savannah.
I have a big passion for all things classic and for creating a peaceful experience for moms while turning their digital images into heirloom quality, printed memories they can FEEL!
From helping you find that perfect post-baby dress, to even hanging your new portraits in your home, my mission is to allow you more time to soak in this BIG! moment and keep the Hubs happy with a short honey-do list! Email me today to book your session at [email protected]